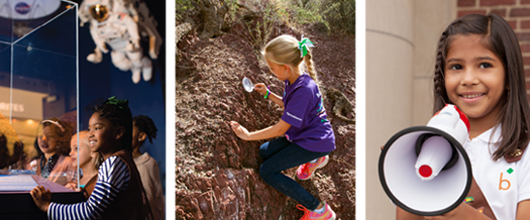 What is a Juliette?
A Juliette is a girl who participates in Girl Scouts as an individual member. Juliettes are names in honor of the founder of Girl Scouts, Juliette Gordon Low. As a Juliette, Girl Scouting is custom-made for you! It's a great way to mix and match your unique interests with Girl Scout participation - special events, weekend workshops, leadership projects or travel opportunities that improve your skills and meet your interests and needs. 
Meeting in troops is one way to be a part of the Girl Scout experience, but when there aren't available troops in your area, your troop no longer meets, or you become too busy with extracurricular activities or sports, becoming a Juliette will allow you to continue your Girl Scout experience on an individual basis. Instead of working with a troop, you will work on Girl Scout programs with a registered adult mentor. 
Take a look at our Juliette Guidebook to learn more! 
What Can a Juliette Do?

How to become a Juliette
Time to Explore!
Once you have registered, you are a Girl Scout! Now comes the exciting part of deciding which events you would like to attend, which awards you would like to work on, and which other programs you want to take part in. Your only limit is your titme and imagination!