NICKELODEON'S DOUBLE DARE LIVE! At the Smith Center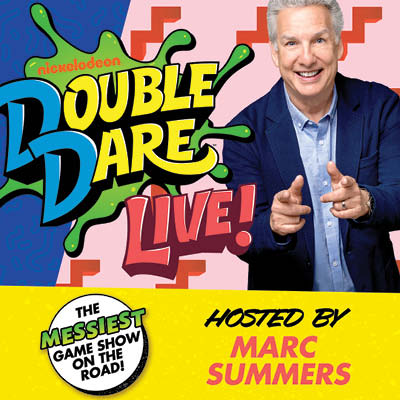 Date:
Sun Oct 20, 6:30 PM
- 8:30 PM PST
Location:
The Smith Center for the Performing Arts
Registration:
Tue Aug 13, 9:00 AM
- Fri Sep 20, 5:00 PM PST
Level:
Junior, Cadette, Senior, Ambassador
NICKELODEON'S DOUBLE DARE LIVE!
On your mark, get set, GO! The messiest game show on TV is now the messiest game show on the road. Double Dare Live is coming to your town and will bring all the action and excitement of Nickelodeon's hugely popular TV show to the stage. All the Slime soaking, pie plastering, and booger busting will be hosted by the Double Dare legend himself Marc Summers! Bring your whole family to the show you loved as a child. You might even get chosen to compete to win by answering brain-bending trivia questions, complete messy physical stunts and even run the legendary obstacle course! Don't miss Nickelodeon's Double Dare Live!
Tickets must be ordered by clicking the RESERVE NOW button above to get the group discounted price. Or at www.thesmithcenter.com using promo code GSFAMILY. Your seats will be in the orchestra parterre or dress circle category C. The special Girl Scout group price is $41.85 (including fee) and every ticket comes with a pin for your scout uniform as a gift from The Smith Center. Need more than eight tickets? Call 702-749-2348. Ask for your uniform pin in person at The Smith Center's ticket office when you arrive. Pins are not available to the general public. Reserve early for best seat selection and no later than September 20. This show is appropriate for ages nine years and older. All patrons must have a ticket regardless of age. The performance will run 1 hour and 40 minutes with a 15 minute intermission. Girls may wear their Girl Scout uniforms or white shirt with sash (no T-shirts, please).